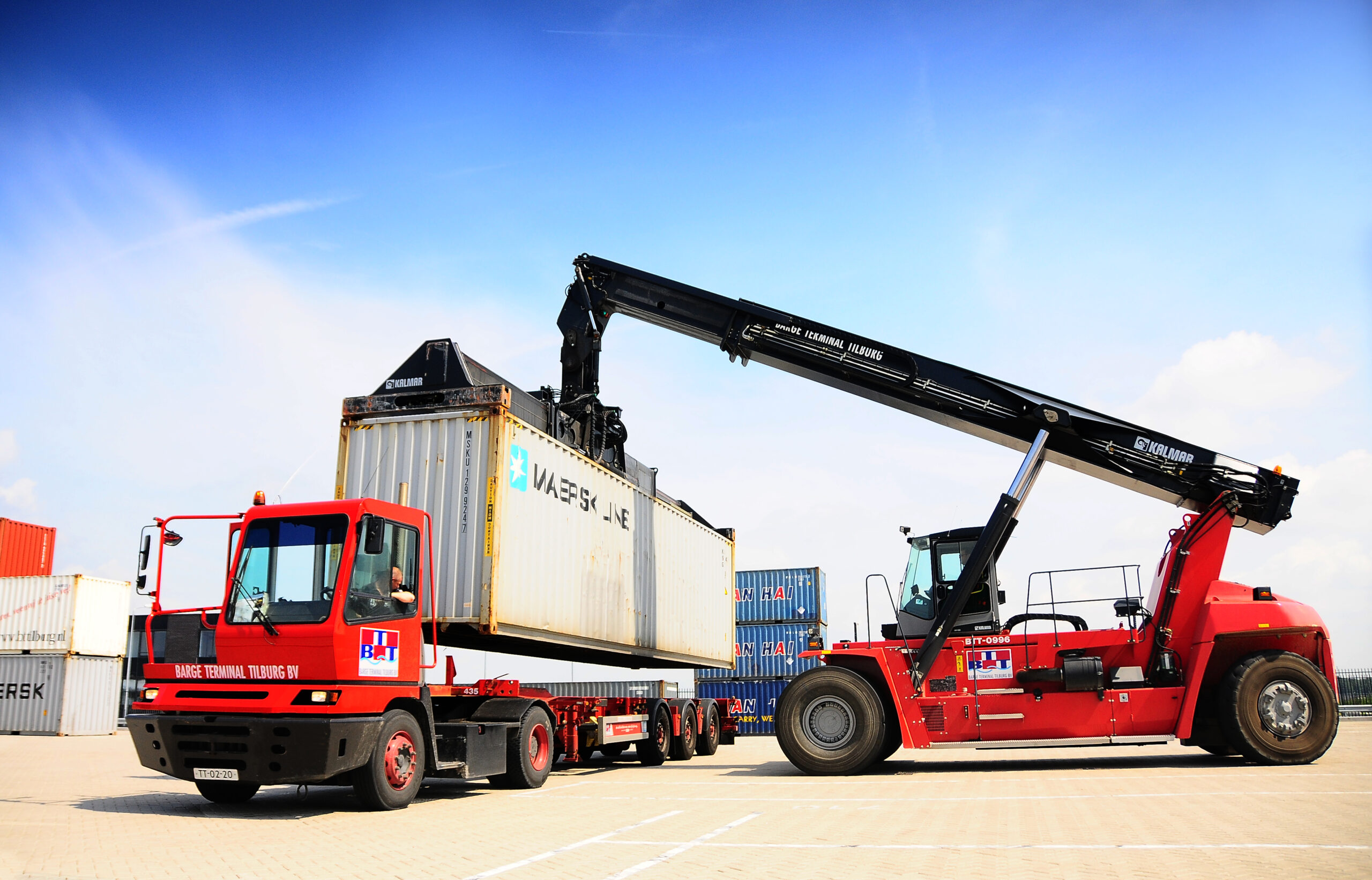 With developments following each other in rapid succession, it is important for organisations to be flexible and innovative. The Covid-19 crisis shows how important digitisation is. Also, the explosive growth of container logistics has increased the need for optimisation and space saving. We support more and more inland terminals in their response strategies to recent developments and their application of smart innovations to optimize container flows. For a number of clients we have implemented systems that were previously only used by deep sea terminals. We will give an overview of the most important innovations.
Barrier security and CargoCard checks
Biometric CargoCard and automatic barrier security, formerly only used in deep sea terminals, have also been put into use at inland terminals for some years. Both solutions provide improved security and control in dealing with visiting trucks.
Slot management and reservations through web portals
Slot management leads to efficient truck traffic management. The loading and unloading capacity of the terminal is displayed in digital hourly slot schedules. Carriers can make a reservation through the linked web portal, with respect to the capacity of cranes and reach stackers. Access to the terminal is not allowed without a slot reservation. After booking a timeslot a reservation number is provided. The driver simply types in the reservation number at the column near the entrance gate. This system provides optimal use of terminal capacity without waiting times.
Speed gates and driver desks
The use of speed gates and driver counters ensures independent handling of drivers inside and outside office hours. Loading and unloading data are linked to the CargoCard. When the driver scans the card, the crane is automatically instructed to pick up the right container. At driver desks the system used is a secure PC on site. At speed gates the system used is a column where the driver needs not leave the truck. The information is given in several languages to support the system's usability for foreign drivers.
OCR and other camera security systems
OCR stands for Optical Character Recognition. OCR systems provide automatic recognition and control of container numbers and license plates at the gate. This data is transferred to the Modality system. The Modality system carries out the final check and checks whether the truck or container-combination was expected and opens the gate barrier if the combination is correct. The digital images taken in this process will be stored. The advantage of OCR software is that information is converted quickly and reliably and is less prone to errors than manual processing. Several Inland Terminals use traditional systems, but more accessible alternatives are now entering the market. The latest development in this field is working with OCR systems in cranes. These systems are still in a test phase for inland terminals As soon as applications are ready for operation, we can develop an interface them for you.
Web modules for terminal controls, reach stackers and cranes
For an increasing number of terminals we are developing web modules for the various activities of outdoor operations. These web modules are easily scalable, user-friendly and linked to the central system. A good internet connection is all that is required. As a result, mobility and flexibility will increase greatly. Operators like reach stacker drivers can use tablets which they can use for other purposes, too, like taking a picture of a container.
Graphical overviews of stack positions on terminal
Graphical overviews enable users to maintain an overview of the container stock. Stack positions can be marked for specific use, such as hazardous goods, reefer, etc. In combination with rules for logical stacking, containers will be grouped on the basis of information such as date of unloading or sailing.
Interface with crane PLC for automatic processing of container movements
Increasingly, container cranes are controlled by a computer and therefore form an important part of the terminal automation. This computer, the so-called crane PLC, indicates where the crane is located and what operations are going on.
The crane interface ensures automatic processing of position changes of the moved containers. As a result, the crane operator no longer has to carry out administrative tasks and can concentrate fully on carrying out the container movements. In this way, the number of containers processed per hour can be increased.
Optimization modules to prevent unpaid moves
Various inland terminals now work with optimization modules in which the system indicates the optimal order of container handling. This optimal container handling is calculated by a system algorithm, preventing unwanted, unpaid moves. This optimization also realizes the avoidance of queues at the terminal and finds a good balance in the handling of the different modalities (barge, train, truck).
Your innovation partner
We have installed the above innovative applications several times. In general, we see that terminals that are expanding at a high pace are at the forefront of developments. These growing inland terminals are more likely to run out of space and are therefore faster to implement new solutions. We have been involved in many innovation processes as one of the first parties and are happy to share our experience in order to find the best manner to optimise your container flows.
Would you like to know the most suitable solutions for your situation? Contact us and we will provide you with personal advice.